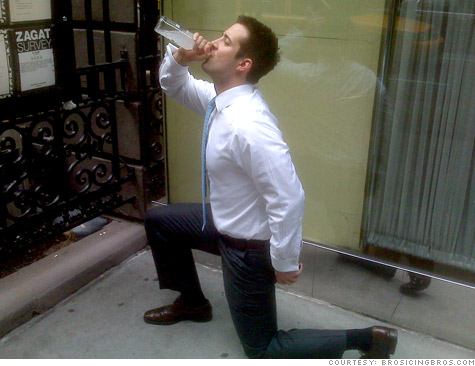 Fortune
's
Don't ice me, bro! When memes meet the marketplace
relates the battle by Vodka peddler Smirnoff against fans of its Smirnoff Ice beverage. Apparently it had become popular with "Bros"--"a college-age person ... They like to hang out. A lot of them drink beer and wear backwards baseball caps. A lot of them drive SUVs and listen to Dave Matthews Band"--well, until Smirnoff sued them, I guess. Some frat-boy antics arose where these kids of privilege and no rhythm would "ice" each other--basically daring or challenging or pranking each other to drink a Smirnoff Ice. Then someone set up fan site
brosicingbros.com
, with pictures etc. of people "Icing" each other.
Good PR for Smirnoff, right? Well apparently Smirnoff didn't think so, so they threatened the site with a copyright and trademark lawsuit, so it was taken down. The case by Smirnoff is taken apart in Bros Icing Bros - A Case for Copyright Bullying by Overreacting Smirnoff Lawyers by legal non-profit called NewMediaRights, which heroically provides "free legal assistance to bloggers, journalists, and filmmakers getting bullied by companies into taking down their websites."
This reminds a bit of Ford Slaps Brand Enthusiasts, Returns Love With Legal Punch, AdRants, in which Ford Motor Company claimed it holds the rights to any image of a Ford vehicle, even if it's a picture you took of your own car.
For other IP horror stories, see The Patent, Copyright, Trademark, and Trade Secret Horror Files.